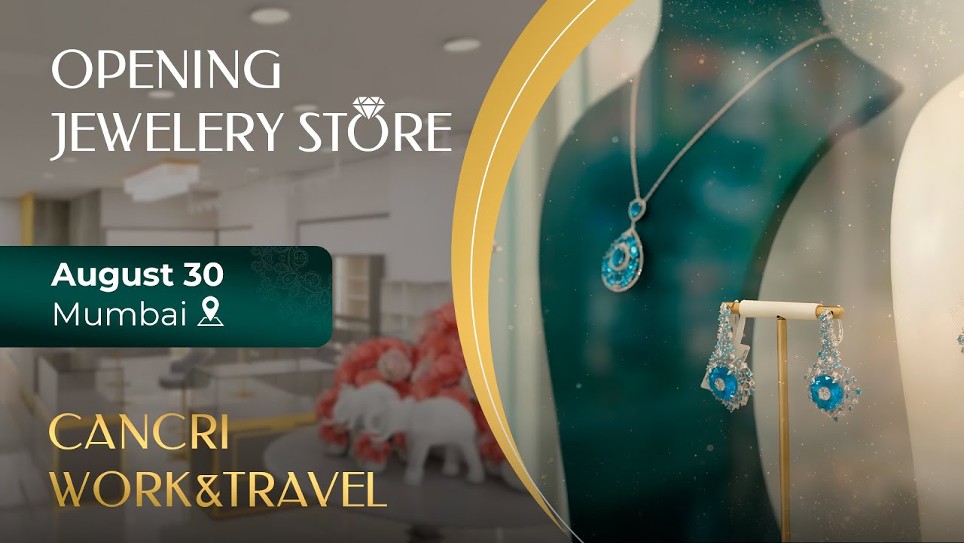 CANCRI, the renowned jewellery house, is thrilled to announce the grand opening of its new store in the vibrant city of Mumbai on 30th August 2023. With its unique cashback programme and an exquisite collection of jewellery from both international and national manufacturers, CANCRI aims to captivate the discerning customers of Mumbai with its luxurious offerings.
Known as one of the world's engines of economic growth, Mumbai is a city of contrasts, where tradition and modernity seamlessly blend. It is in this dynamic and bustling metropolis that CANCRI has chosen to establish its presence, recognising the immense potential and sophisticated tastes of the local market.
The new CANCRI jewellery store is a testament to the brand's commitment to providing exceptional craftsmanship, timeless designs, and unrivalled quality to its clientele. Spanning across five trading floors, the store promises an immersive experience, where customers can explore a wide range of jewellery collections meticulously curated from renowned foreign manufacturers as well as celebrated national brands.
One of the standout features of CANCRI is its innovative cashback programme, which has garnered high praise within the local market. This programme allows customers to earn rewards on their purchases, making their luxury jewellery experience even more rewarding and memorable.
"We are delighted to bring CANCRI to Mumbai, a city that embodies the spirit of opulence and elegance," said representative of CANCRI. "Our aim is to create a haven for jewellery enthusiasts, where they can indulge in the allure of diamonds and other precious gemstones. With our unique high cashback programme, we want to redefine the way people perceive luxury and make it a truly rewarding experience for our valued customers."
CANCRI's expansion into Mumbai signifies a significant milestone in the brand's growth strategy. By offering a diverse range of jewellery collections, coupled with an innovative cashback programme, CANCRI aims to establish itself as a leader in the Indian jewellery market while continuing to uphold its commitment to unparalleled craftsmanship and customer satisfaction.
Mark your calendars for the grand opening of CANCRI's new jewellery store in Mumbai on 30th August 2023. Join us as we celebrate the fusion of luxury, elegance, and the vibrant energy of Mumbai. Experience the CANCRI difference, where every purchase is an opportunity to earn and indulge in the beauty of diamonds.
About CANCRI:
CANCRI is a renowned jewellery house committed to providing exceptional craftsmanship, timeless designs, and unrivalled quality to its discerning clientele. With its innovative high cashback programme and a wide range of jewellery collections from renowned international and national manufacturers, CANCRI aims to redefine the luxury jewellery experience. For more information, visit https://cancrijewelry.in/