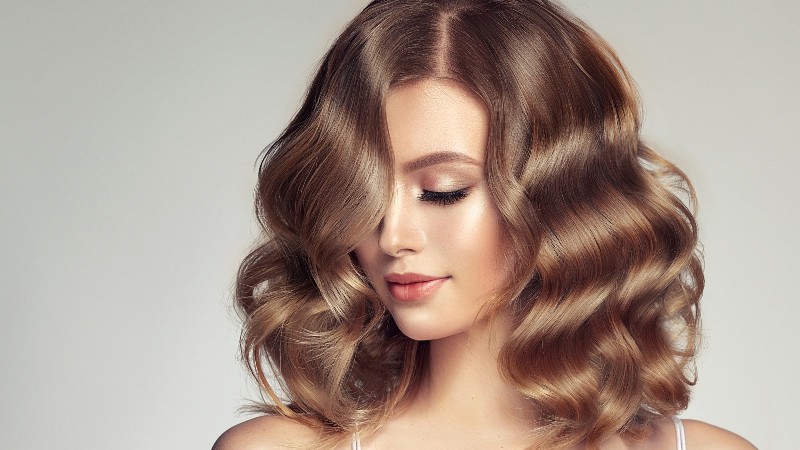 Greys just add a classy and worldly-wise edge to your persona, and there are so many ways you can flaunt them! But loving them is optional as well. If they prevent you from being at your best level of confidence, then there are so many ways to hide them. From sprays, powders, shampoos, to regular dyes, you will get a hoard of options to work best for you. There are a range of shades too: natural black, rich black, natural brown hair color, dark brown, burgundy shades if you want to go a little bold, and many many more. Choosing the right shade is of utmost importance because a wrong choice can look unnatural on you, thus creating a recipe that will surely ruin your fashion game. Worry not. We are here today to suggest some natural brown hair colour shades so that you can pick the perfect shade for your hair.
The Dilemma between all-over Coloring And Highlights
Most women prefer to go for all-over hair color, but then, that also means your greys will grow back again soon enough, and you will be left with that odd demarcation of grey roots showing up under your colored hair. Now now, your hair deserves better. Highlights and lowlights on your hair are actually a better option. Even when your grey roots begin to grow back, it will look like a smooth transition with your colored hair and not just pop out. Not only that, highlighting your hair actually makes your facial features stand out better, and your hair looks shinier and more voluminous. Still, torn between what to choose? Oh, don't be! We will give you options for both styles and you can pick according to your liking.
Options for All-Over Hair Coloring
Cappuccino Brown Hair Color
We decided to begin with a beverage to add a caffeine kick right at the beginning. But moreover, because this is a gorgeous brown shade that so many women can flaunt and nail! A very versatile color, it will look good on women with both warm and cool skin tones, and help in hiding those greys they don't like. This light coffee shade will definitely add that extra kick to both your hairstyle and persona.
Chestnut Brown
Want an added hint of sultry to your hair game? Chestnut brown should be your pick. A deadly combination of natural browns and reds, the brunette in you is ready to shine for sure. With the added coolness of red, this hair color would be perfect for women with a warm skin undertone. Truly, opposites attract, and how!
Caramel Brown
Where are our cool-tone goddesses at? We chose the sweetest of the lot just for you! The warm golden tones in this color will accentuate your ravishing skin tone and dark eyes, making you feel like the diva that you truly are. You can also keep your dark brown mane intact for this shade, as the warm browns will add an extra depth and volume to your already beautiful hair
Up until now, we just suggested to you some shades that would no doubt be next level flattering. But we have the perfect suggestion for the hair color to choose from as well. While you are only concentrating on coloring your hair, and that too quite often, you should also think about how it can damage your hair. Most hair color brands these days use the notorious ingredient ammonia in them. Of course, they don't intend to damage your hair, this chemical is used only because it can make hair colors last for a longer period of time. However, new formulations have emerged that do the same without ammonia. One such product is the Godrej Expert Rich Creme Hair color which is a no-ammonia formulation. So no more damaged and dull hair! With the added benefits of aloe vera extracts, your hair will experience deep conditioning and be soft and shiny all the time. What's more? It is very easy on your pocket and time-saving as well, so you don't need to set aside a whole day just to color your hair. They have three variants of brown color: a dramatic dark brown, a luscious honey brown, and a rich natural brown. So wait no more. Get your hands on the Godrej Expert Rich Creme Hair color and cover up those greys with some added natural goodness!
Options for Highlighting
Honey Brown Highlights
A touch of honey brown warmth on your natural brown hair would be like a breath of fresh air. You can create a pretty transition of this shade with some dark brown tones, and amp up the look with some beach wavy curls. For women with a fair skin tone and hazel eyes, this color in its rich goodness would ooze out your main character energy.
Cinnamon Brown
Planning to add some spice to your hairstyle? Cinnamon is perfect for the occasion. The punch of red tones on warm brown makes it a color suitable for every skin tone, and literally everyone who wants an out-of-the-box yet well-balanced look. This color will surely accentuate your hazel and brown eyes, giving off the ultimate showstopper vibe.
Ash Brown Highlights
Women with short hair need not feel left out anymore. Here is the perfect shade that will look lovely with subtle highlights on your short dark hair, a perfect cool ash brown for your rich and gorgeous warm skin tone. What's more exciting? This shade is super easy to maintain and would save you from those frequent salon appointments that drain all your bucks. Ash brown is that color which doesn't turn out to be dull and dreary as it is coming off, saving your hair from all the dullness that ensues.
A successful and gorgeous hair makeover need not take a lot. Once you find your perfect shade, you will nail every look like a true boss. We hope these suggestions would help you beauties out with your natural brown hair color needs. Happy Beautiful tresses to you!