At tonight's UFC 212 main event, Jose Aldo vs Max Holloway is, on paper, one of the best fights of the year.  Aldo's the greatest featherweight of all time, and Holloway, a crafty up-and-comer, is on a shit-hot winning streak.  But it's also a weird one. Both fighters, after all, got dominated by the division's absentee ex-king, Conor McGregor.
Holloway's case is not so bad.  He lost to McGregor when he was 21 years old and still raw and less graceful.  Since then, he's grown by leaps and bounds, showing new looks in every fight and sticking a stiff, unyielding fist down the throats of some of the featherweight division's best—not to mention an ex-lightweight champion in Anthony Pettis.
Now 25, Holloway is just entering his prime.  He's one of the UFC's most cunning, exciting fighters—a stance-switching dynamo with a penchant for isolating opponents' weaknesses and drawing on a bottomless arsenal of techniques to whittle away at their resolve.  Now he's got a shot at winning the featherweight championship.  Against McGregor, he stumbled, but he did not fall.
Aldo, on the other hand, did fall, and he fell hard.  Literally, of course, given that he ran in swinging wild and got knocked unconscious in 13 seconds.  The loss was bad, sure, but it's what came before that did the truly lasting damage.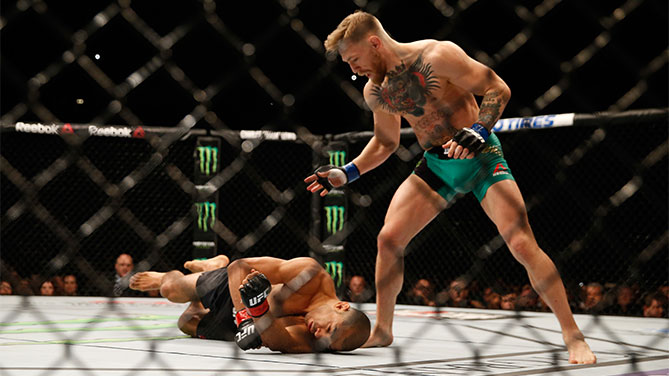 Aldo came into his rivalry with McGregor at the height of his prime as one of the UFC's most seemingly unbeatable champions, with a cool, distant persona to match.  McGregor unraveled all of that.  The lead-up to Aldo and McGregor's eventual title fight at UFC 194 in 2015 is, arguably, the thing that solidified McGregor as a superstar.  The UFC poured serious cash into the marketing campaign and took the two fighters on a still-unprecedented worldwide promotional tour.  Together.
Aldo tried to be himself, a stiff demeanor, measured in his pace, comfortable in his dominance.  On the other hand, McGregor would come in like he'd already won the fight.  He was loud and wild in his antics, but with gruesome precision that slowly but surely undid Aldo's placid demeanor.  Every time they were in close quarters, which happened a lot (which was the whole point, the UFC capitalizing on by having cameras on them 24/7)—McGregor needled away at Aldo.  He poked and prodded and mocked and cackled.  He got the Brazilian audiences, which were typically fanatical in their Aldo devotion, to cheer for him.
Then McGregor plucked Aldo's championship belt right out from under him during a huge press conference, and while Aldo made futile motions in the general direction of getting it back, McGregor raised his arms in victory and laughed like a maniac.  As UFC president Dana White pushed Aldo away, his impotent rage was palpable, his strawberry-red embarrassment even more so.
Later on, when Conor McGregor won the UFC's lightweight belt and was forced to give up his featherweight belt, Aldo was declared champion again, essentially by default.
There are a lot of 'what ifs' in tonight's fight.
What if Aldo wins?  He'll technically be the "undisputed" featherweight champion, but people will still dispute it. They'll just keep bringing up that damn McGregor loss.  He's gonna have to win a lot more before they'll stop.  And what if Aldo loses, especially in a devastating fashion? Then people will look back at the McGregor fight and say that's where Aldo broke down.  Accumulated wear-and-tear played a role, sure, but McGregor was the hammer that finally drove the nail into the coffin.  But by being inextricably linked to McGregor's rise, and by being at the height of his own powers when it happened, Aldo faces the biggest questions of all.
It's still going to be a great fight, though.
Check out The UFC 212 Card here and see who's fighting tonight.