It looked like the fight was going in Luke Sanders' favor at UFC 209.  He had veteran contender Iuri Alcantara wounded by punches and trapped in the corner for minutes on end, taking unanswered punch after unanswered punch.
The fight could have probably ended right there.  Sanders would walk away the victor and likely double his purse.  It's not what happened though, as Sanders' aggression got the better of him.  He posted up and tossed a hard, blatantly illegal, knee strike to a downed opponent.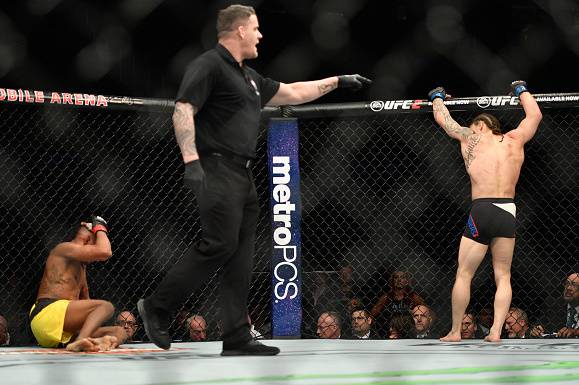 Sanders lost a point on the score cards for that…but it likely also cost him the fight.  That's because his uppance came back in a big way in the second round.  Alcantara locked up a silky smooth kneebar.
Check out the video here: Illegal kneed starts at 5:50
That was an amazing comeback win for Alcantara.  He's now riding a winning streak for the first time since 2014.  For Sanders, however, this is a tough blow for someone who was forced to take a year off due to injury. Karma is a b**ch!